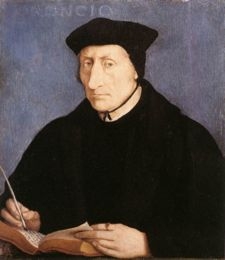 The BUDE (Base Unique de Documentation Encyclopédique) database collects information about the dissemination of ancient and medieval works in manuscripts and printed works from the Middle Ages and the Renaissance (up until the 17th century, depending on the country).

The vast majority of this information was previously accessible in the card catalogue of the Institut de Recherche et d'Histoire des Textes (IRHT). Because of the number of documented provenances, the origin of all information is recorded in the database ; all data provided by Tradlat is marked as such.

The database is constantly growing ; it is possible to search for a famous figure and not find him or her ; or to land on a page featuring little more than the person's name. In such cases, although a person may be recorded in the database, the relevant page has not yet been populated.

The following pages have been created by Tradlat :

Antoine Geuffroy and his translator Wilhelm Godelevaeus

Laurent Joubert and his translators Alberto Luchi da Colle and Jean Bourgeois

all of which are on BUDE


New pages : Jacques Besson, William Camden.


How to get access : BUDE is available to all registered users. However, not all language and country options are yet available.


Please refer to the user's manual.